Mansard Loft Conversion
LOFT CONVERSIONS FOR OVER 20 YEARS!
LOOKING FOR A MANSARD LOFT CONVERSION?
Mansard loft conversions were named after the 17th Century architect Francois Mansart. They're considered as an extension of the entire plane of your property's roof and are usually found at the very rear of the property.
This particular type of loft conversion ultimately changes the sloping side of the roof to a virtually vertical one, at least 72 degrees. 
While the roof is flat, the windows sit snug inside dormers. Mansard loft conversions are generally more common in homes in London and other cities or built-up urban areas and in some cases, due to their ability to provide much-needed extra space, can often be seen across entire rows of terraced housing in cities.
How Much Do Mansard Loft Conversions Cost?
Investing in a mansard loft conversion is one of the best decisions you can make. You'll get more space, and it's easier to decorate with all that extra room! And if your house has some quirks or limitations when it comes to natural light, then what better way than by adding on an additional window?
There are many factors that may affect the final price like size and design; these will depend mainly on how much work needs to be done beforehand (or after).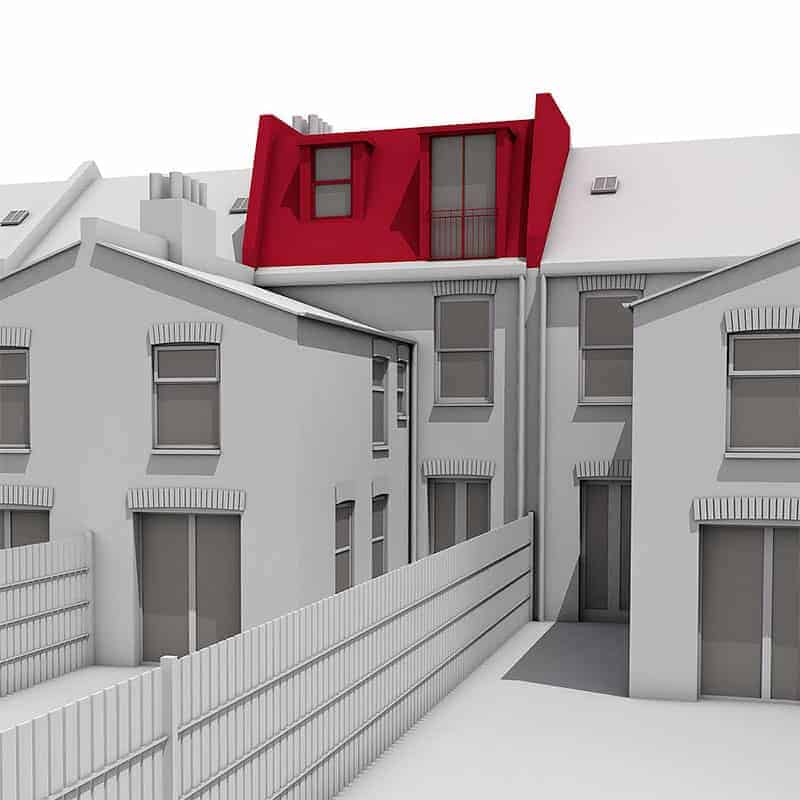 Planning Permission For Mansard Loft Conversion?
Mansard loft conversions are a good idea if you're looking to add space for your family or adding value to your home, but they usually require planning permission before installation. Your local authority in London will have regulations about how the mansard loft conversion is implemented and what materials can be used, so make sure to check with them. Our team can also help with planning permission for a mansard loft conversion.
Homes Suited For Mansard Loft Conversions?
Mansard roofs provide the perfect opportunity for a new space. Mansard loft conversions are typically cheaper to build compared with flat roof conversions and suitable in many types of properties – from detached houses, to semi-detached, or even terraced ones! Most homes can have their own mansard conversion.
L – SHAPED MANSARD LOFT CONVERSION
An L Shaped mansard loft conversion is very similar to a rear mansard loft conversion but boasts the additional benefit of extra space. While not all properties are suitable for an L-shape mansard, those that are can enjoy a huge amount of added space and as a result, a big return on their initial investment thanks to the resulting property value.
L-shaped mansard loft conversions make use of the space at the rear of the property, usually kitchens and bathrooms, by extending out over this area. Here at Clapham Construction Service, we'd always recommend converting the L-shape at the same time as the mansard where possible as additional costs can actually be surprisingly reasonable when compared with what many assume.
WHY CHOOSE CLAPHAM CONSTRUCTION?
Mansard loft conversions are often very cost-effective and simple to construct, yet another bonus of this particular option, and are suited to a number of style properties too. From detached to semi-detached, terraced to chalets and even bungalows, these typically are all suitable for Mansard loft conversions. 
Of course, having an expert take a look to give you the thumbs up is the only way you'll know and thankfully, here at Clapham Construction Service, we offer a free, no-obligation consultation. If you'd like to book one of our complimentary consultations, please don't hesitate to contact us today on 0203 950 7957. Our team of loft specialists will be only too happy to help, offering as much advice and guidance as you need to make the most informed decision possible.
Want some friendly advice?
Contact Us Today For Loft Conversions